Meet your Rocky Mountain Recumbents Staff!
Steve Shoemaker- Owner/Manager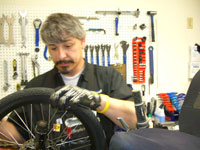 If you have questions about cycles or cycling, Steve is the person you need. His 23 years in the cycle business covers sales, product information, inventory, quality control, and service. Steve has a background in psychology as well as four certificates from United Bicycle Institute, Ashland, Oregon. Steve knows cycles and loves sharing that knowledge to help you determine the best cycle for you! He has traveled around the world many times, with visits to most of the countries in Europe, Asia, and the Middle East. He trekked Nepal, saffaried Kenya, climbed the Eiffel tower, skied Alpe D'Huez, rode across Iowa in RAGBRAI three times, and has visited just about every state in the US—to give you a quick glance at his background! He is a people person who makes friends where ever he goes. Cycling is Steve's passion; he rides every chance he gets. He often says that, "cycling keeps me sane!"
Rachel Shoemaker- Book Keeper and Sales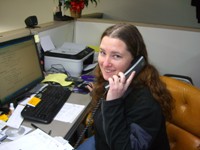 The friendly voice that answers your telephone call will probably be Rachel. She is the "money lady" who keeps the rest of us on our toes. She places the orders, pays our vendors, helps us maintain our inventory, and processes all of the online orders. Rachel is an Arizona girl at heart but is enjoying her new Rocky Mountain home. Her 10 year background in accounting and bookkeeping is varied and impressive. She is also a graduate of United Bicycle Institute in Ashland, Oregon. She is our number-one sales person. You will find her friendly smile, knowledge, and identification with your needs a BIG plus when you are ready to get into a new cycle.
Jim Edwards- Builder and Service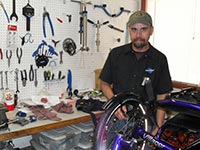 Jim is our team member of "few words." He spends some of his time here keeping our computers up to date and ready for our day to day use. Jim is also a graduate of United Bicycle Institute in Ashland, Oregon. When your cycle comes in for service, it may be Jim who tackles it. You can find him in the service area with music going and mind totally dedicated to your service needs. He also builds all of the new cycles that come into the shop. If you are in for a test ride or to pick up your brand new cycle, it is likely that he is the one who built it. He is a perfectionist who will double check each element before he puts the cycle into or back into your hands.